"Learn to Play"
Table Games
Here at Topaz Lodge we want our players to have the best gaming experience possible. Our guests should never feel intimated to play any one of our exciting table games. Find all the help you could need in our intuitive table gaming guide.
Topaz Lodge has 3 Blackjack tables for your gaming excitement. Remember, we just want to show you a great time, so don't hesitate to ask our employees for help. Here are a few of the basics of the game.
This is the game you have been looking for. Three Card Poker has one of the best player odds of any table game in the house. Its fast paced and easy to learn, our fun and friendly dealers will be happy to show you everything you want to know about this game in just a few minutes.
Goto Game Rules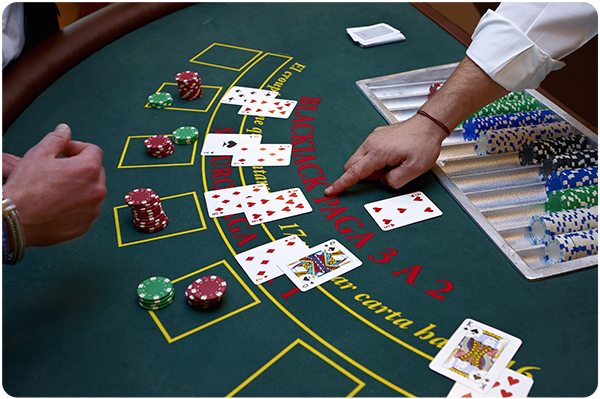 In Blackjack, you are playing against the dealer. The object of the game is to come as close as you can to 21, without going over, and still beat the dealer. Remember, you don't have to have 21 to win, all you have to do is beat the dealer.
​All numbered cards count for face value. Jacks, Queens and Kings are 10 and the Aces are valued at either 1 or 11, whichever produces the best hand.
To begin play, the dealer will deal each player and himself two cards, one at a time, face down. The dealer will then turn one of his cards face up so its value is revealed. You may ask for another card ' called taking a hit ' by scratching, or pulling the edge of the card toward you. This will signal the dealer to give you another card. If this card causes your hand to total more than 21, you have busted and the dealer will take your bet. If you think your total is enough to beat the dealer, just tuck a corner of your cards under the money that you have bet. This indicates that you don't want any more cards (you stand).
​The dealer is required to draw a card if his total is less than 17 or if he has a soft 17. A soft 17 means that the dealer holds an Ace plus one or more cards adding up to a total of 7 (In this example, the Ace counts as 1).
​Scoring is easy. If your total is 21 or less, and more than the dealer's hand, you win. If the dealer's hand is the same total as yours, it's a stand-off or push, and you get your bet back. And, if you go over 21, you lose even if the dealer goes over 21.
​That's the basics. Remember, here at the Topaz Lodge & Casino, your dealer is always happy to answer any questions you have.
The Deal
The Player and the dealer each receive a three card poker hand.
Betting Options: Players may bet one or all of three ways
Pair Plus
Bet "Pair Plus" to play for the following pay-out schedule regardless of what hand the dealer may make.
Bets must be $3.00 to $20.00
Straight Flush: 40 to 1
Three of a Kind: 30 to 1
Straight: 6 to 1
Flush: 4 to 1
Pair: 1 to 1
Ante
Bet "Ante" to play against the dealer. The dealer needs a Queen or better Poker hand to qualify to play. If the dealer does not play your Ante bet wins 1 to 1. Another way to win on the "Ante" bonus is when your poker hand is a Straight or better. You can win on this spot even if your hand doesn't beat the dealer. Bets must be between $3.00 and $20.00.
Straight Wins 1 to 1
3 of a Kind Wins 4 to 1
Straight Flush Wins 5 to 1
Play
Bet "Play" When you receive your 3 cards look to see if you may win by playing against the dealer's hand, if so place your bet (equal to the "Ante" bet) on the "Play" spot. If your poker hand beats the dealer poker hand your "Play" bet wins 1 to 1 and your "Ante" bet wins 1 to 1. For real risk-takers bet this spot before you see your three cards, if the dealer does not play your bet is returned. Bets must be between $3.00 and $20.00 and match the "Ante" bet.